Treatments for men and women
Unwind - Relax - Rejuvenate
The Dermapen 4 is a mechanical microneedling device used to rejuvenate the skin from below the surface. It uses fine needles which vertically puncture the skin in rapid succession to stimulate collagen production and increase product penetration.
The fine needles penetrate the skin causing thousands of micro injuries which triggers a healing process that stimulates your own skin cells to increase the production of collagen and elastin fibres, effectively repairing scars, reducing discolouration, improving fine lines and wrinkles and renewing tired looking skin.
Dermapen skin therapy offers long lasting and ongoing results, rejuvenating the skin leaving it firmer, smoother and looking younger.
It is typically used to treat the following conditions:
Aged Sagging Skin
Fine Lines and Wrinkles
Smoker lines around lips
Skin Tightening and Rejuvenation
Reduction of Surgical, Trauma and Acne Scars
Rejuvenation
Pigmentation
Large Pores
Stretch Marks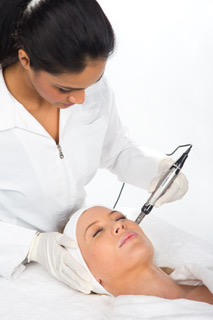 Depending on your skin concerns, a course of treatments may be recommended at 6 week intervals – in line with the skins natural cell regeneration.