Treatments for men and women
Welcome to your best skin
Dermalogica have pioneered new standards for product and performance with their commitment to skin health since 1986.
Our skin care treatments are fully customisable to meet your skin concerns using the multi-award winning brand and using our unique Face Mapping skin analysis to create treatments that get the best results for your skin.

Specially created for teenage skin, Clear Start doesn't just zap or cover up breakouts, it helps your skin look its absolute best! It's a facial that targets breakouts yet it's gentle enough on young skin, with tips and advice to help with a home care routine, it will help to make your clearest, healthiest skin ever.
What is a Chemical Peel?
Chemical peels are painless and are designed to improve your skin's texture and tone. 
 Using specially developed ingredients our Pro Power Peel collocation features a full suite of peel products, including alpha hydroxy acids and beta hydroxy acids. 
 to break down the bonds of the surface skin cells revealing smoother, softer skin cells underneath, uncovering a fresher complexion.
Why Choose a Dermalogica Pro-Power Peel?
Dermalogica products are specifically designed to improve the health of your skin, applied by fully trained Dermalogica skin care professionals.
Your experienced beauty therapist will assess your skin concerns and prescribe the correct peel for you from a range which includes products designed to:
– Improve skin brightness and hydration
– Reduce the appearance of hyperpigmentation
– Reduce the appearance of lines and wrinkles
– Reduces redness and blemishes.
As Dermalogica experts we use a unique perspective when it comes to chemical peels and our core value is promoting overall skin health. Click get in touch below to book your ProPower Peel and start on your skin health journey.
Microdermabrasion is a system of exfoliation and resurfacing to rejuvenate the skin. This results in firmer and more youthful looking skin by using medical grade crystals to gently remove dead skin cells and vacuum to stimulate the production of collagen and elastin. It is suitable for any skin types, male or female and can be used on the face and body.
Microdermabrasion can be used to treat and diminish:
Fine Lines and Wrinkles
Sun Damaged Skin
Acne Prone Skin
Blackheads and Whiteheads
Superficial Age Spots
Hyper-pigmentation
Oily Skin
Dry or Patchy Skin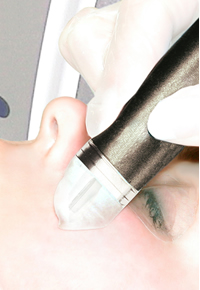 Other areas available on request.